News / Chennai Metro completes 50% of pier cap erection
Chennai Metro completes 50% of pier cap erection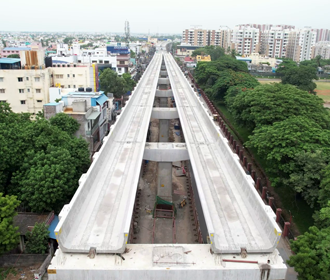 Hindustan Construction Company – KEC International JV has completed 50% of the pier cap erection on 17 December 2022 for Chennai Metro Line-4's ECV02 package. The cast of their first pier cap at nearby Ramachandra Hospital was done on 27 February 2022.
The package C4-ECV-02 of Corridor 4 was awarded to HCC-KEC JV on 12 May 2021 with construction cost of Rs 1,147 crores. This package includes construction of an elevated viaduct of approximately 8 km between Chennai Bypass Crossing and Poonamallee Bypass Station and approach to Depot at Poonamalleee. This also includes erection 11 special steel spans and construction of 9 elevated stations.
The team began test piling works right before May 2021 at Poonamalle Bypass Station, and then began piling work in September 2021. So far 341 of 593 piers have been erected. Alongside 82% of Utility Trenching, 74% Piles and 62% of Pile Cap, and 60% of Viaduct U Girder erection has been completed. Around 880 m of viaduct has been handed over for track and systems laying. The overall work is monitored through General Consultant of AECOM Oriental Consultant Global & Nippon KOEI Consortium appointed by Chennai Metro Rail Project - Phase-II. The package C4-ECV-02 has achieved Four million safe man hours till date.
The Chennai Metro Rail Limited (CMRL) is developing corridors 3, 4, and 5 with a total length of 118.9 km under Phase 2. The key focus for Phase 2 is to connect the northern (Madhavaram, Thiruvottriyur, Redhills) and southern parts (Siruseri, Sholinganallur) and the east parts of Chennai (Light house, Mylapore) to the western parts of Chennai (Porur, Poonamallee). Corridor 4 of the Chennai Metro Phase 2 will run from Light House to Poonamallee bypass across east west in Greater Chennai City and will be 26.1 km long with 27 metro stations wherein 18 are Elevated stations.