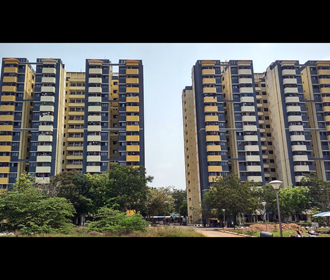 May 2023: HCC has completed the work of Construction of 120 Nos of Type-III C and 480 nos of Type-IV D residential quarters and handed them over to the client – Department of Atomic Energy (DAE), Anupuram Township, Kalpakkam, Tamil Nadu. The project was completed in May 2023. End users well appreciate the quality of work and finishing achieved.
Four towers are fully occupied, and the fifth one is in due course of time.
The project comprises five towers, each having 120 flats (G+15 floors), of which four are type IV-D and one tower of Type III-C. Built up area for each IV-D Tower is 13,000 sqm, and III-C is 9,500 sqm. The total built-up area is 61,500 sqm. The area of each IV-D dwelling unit is 910 sqft, and that of III-C is 660 sqft.
The salient features of each tower are:
– All flats are furnished with wardrobe shutters, all rooms fitted with fire-fighting sprinkler bulbs, Jaguar CP fittings, Parryware sanitary wares, internal plumbing with composite pipes (PE-AL-PE pipes) and external feeder lines with HDPE pipes.
– Wood-free steel door frames and aluminium windows.
– Corridors are equipped with fire-fighting equipment like hose reel box, fire sprinklers etc.,
– Two passenger lifts and one stretcher lift.
– Four fire rescue flats, two each on the 8th floor and the 13th floor, respectively.
– Other than fire sprinklers with tanks, external hydrants are provided on the ground floor