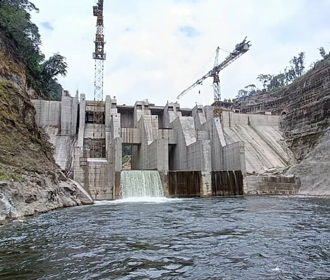 March 19, 2018: The HCC team working on Nikachhu Hydropower Project in Bhutan achieved a significant milestone on 19 March 2023. Diversion tunnel gate was lowered to plug the river diversion tunnel to allow water through the radial gates of dam. Dasho Karma R, Chairman of Druk Holding & Investments Ltd.(DHI), Dasho Chhewang Rinzin, Managing Director, Druk Green Power Corporation (DGPC) and Board Member of Tangsibjee Hydro Energy Limited (THyE) were present to witness the river diversion through dam.
The water flows through two dam radial gates while installing the radial gate on the third is nearing completion. Significant work on the dam, including Hydro-Mechanical, has been completed with this. The dam construction involved 1.80 lacs of excavation and 95,000 cum of concreting. The dam was constructed overcoming various challenges, including adverse geology at the left bank. Water impounding in the dam is expected to begin in June 2023.
Earlier, HCC had achieved Head Race Tunnel (HRT) breakthrough on 14 December 22. The excavation encountered numerous challenges, geological surprises, and cave-in at frequent intervals. Both faces' overt lining has started and is expected to be completed by October 2023.
Meanwhile, the powerhouse work has been completed and handed over to the E&M contractor. The dry run of the powerhouse is scheduled for June 2023.
The 118 MW Nikachhu hydropower project is a run-of-the-river scheme project in Tangsibji Gewog, Trongsa, in Bhutan. The Dam site is located in Lorim, 6 km downstream of the Chendibji Chorten. The project will generate a mean annual generation of 491.52 GWh from Nikachhu Powerhouse. This is the second hydropower project awarded to HCC on an EPC basis and the fifth power project built by HCC in Bhutan. The final commissioning of the Nikachhu project is expected by December 2023.